Broadcast Telecine Services
Our Professional Broadcast Telecine services are currently suspended and our Telecine Machine and other transfer equipment are up for sale!
Please email simon@widescreen-centre.co.uk if you are interested.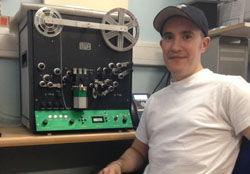 The Widescreen Centre Telecine Service is a fully graded Professional Broadcast Telecine Service. We Telecine Super-8 or Standard 8mm films to DVD, DVD as Quick Time Files (for MAC users), Apple Pro Rez (HQ), MINIDV, DVCAM. We also offer 10-bit Uncompressed Telecine Transfers directly to a Hard Drive.
All films are cleaned and prepped before Telecine.
TELECINE CHARGES:
Single 50ft Super-8 Transfer (jobs of only 1 x 50ft Roll of film)
Transfer to DVD or DVD as QTF or Apple Pro Rez (HQ) - £29.00
Transfer to MiniDV tape - £30.00
Transfer to DVCam tape - £37.00
Multiple 50ft Super-8 Transfer (jobs of 2 or more rolls of film) - £18.00 per roll + digital stock used
+ DVD Playable - £4.00 (12 reels per DVD)
+ DVD as QTF - £4.00 (4 reels per DVD)
+ Apple Pro Rez (HQ) (2 reels per DVD)
+ MiniDV 60 mins Tape - £5.00 (18 reels per MiniDV)
+ DVCam 34 mins Tape - £12.00 (8 reels per DVCam)
Pre-Joined Films:
200ft Reel - £68.00* + digital stock
300ft Reel - £92.00* + digital stock
400ft Reel - £116.00* + digital stock.
*Any repairs we have to do to pre-joint films are charged at £5.00 per join.
Please note sound transfers are charged additional £5.00 per 50 ft of film.
10-bit Uncompressed Transfer to Hard Drive - £25.00 per 50ft roll. This service requires a Hard Drive. Please choose a Hard Drive from our Lacie Hard Drives section of our web-site. Alternitavely you can supply you own external MAC formatted FIREWIRE Hard Drive.
Client attended Telecine per 30mins of Lab time - £100.00
Attended Telecine is by arrangement only and takes place on site at The Widescreen Centre, 47 Dorset Street, London, W1U 7ND. The Client attending will be able to instruct our technician on their grade. The job is charged at standard rates and attended time is charged in blocks of 30mins. We do not charge for the time it takes to lay off the job to tape.
*Please note the client is only able to instruct the technician and not in anyway allowed to operate the equipment.
LIMIT OF LIABILITY NOTICE: On submitting film for any purpose, such as processing, printing, telecine transfer, duplication, storage, or any other handling. You the Customer, accept that this constitutes an Agreement. That any loss or damage to such film by our Company or our agents, will only entitle you to the replacement of such film, with an equivalent quantity/size of unexposed film. Except for such replacement, our acceptance of film is without any other liability. The recovery for any incidental or consequential damages is excluded. No express or implied warranty is provided.
We strongly advice Customer's to arrange there own adequate and appropriate insurance against the risk of any loss or damage.
The Widescreen Centre shall on no account be liable for any postal or other third party delays or losses. It is the Customer's responsibility to resolve any dispute with the third party company involved.
Example of our Telecine Service.
Showreel by our regular customer Mark Brown Films (http://www.markbrownfilms.com)
Super 8 wedding video | Mark Brown Films | California from Mark W Brown on Vimeo.
Mark Brown Films from Mark W Brown on Vimeo.