Celestron CGEM II Telescopes

A fresh update to the venerable CGEM mount, the CGEM II has an attractive, bold appearance and is capable of carrying Celestron's higher-end SCT optical tubes (up to 11") securely and vibration free, which is ideal for both imaging and visual observing. The CGEM II contains innovative new features such as the dual-sized dovetail saddle plate, graduated markings on the tripod legs, USB 2.0 connection on hand controller for PC connection, Permanent Periodic Error Correction, dedicated auto guider port and the ability to track past the meridian.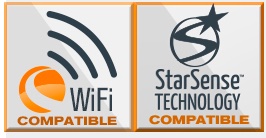 40 lbs payload capacity
Dual-fit Vixen/CG-5 and Losmandy/CGE dovetail saddle
2" steel legs with height index marks for quick leveling
USB 2.0 port on hand control for direct links to a PC via ASCOM supported software.
40,000 object database with over 100 user-definable objects and expanded information on over 200 objects
Internal cabling throughout for worry-free remote operation
Low cog DC Servo motor with integrated optical encoders offer smooth, quiet operation
Able to track past the meridian allowing seamless imaging
Permanent periodic error corrections allow users to train out the worm gears periodic errors once, while the mount retains the PEC recordings.
Software Features include: Mount Calibration, Database Filter Limits, Hibernate, five Alignment Procedures, and user-defined slew limits
Built-in polar alignment program to polar align on any star in the sky
Longer clutch levers to make tightening and loosening of clutches easier
Custom database lists of all the most famous deep-sky objects by name and catalog number
Solar System alignment method allows to view the moon and planets during the day
Permanent Programmable Periodic Error Correction (PEC) corrects periodic tracking errors inherent to all worm drives
Custom Rate 9 feature allows to set maximum slew rate
Tandem mode allows to star align the mount even when positioned for tandem scope use
RS-232 communication port on hand control to control the telescope via a personal computer
Includes NexRemote telescope control software, for advanced control of telescope via computer
Precision machined 40 mm diameter steel Polar shafts supported by multiple tapered roller bearings and ball bearings
GPS-compatible with optional SkySync GPS Accessory
Celestron CGEM II 800 Schmidt-Cassegrain Telescope£3,049.00 £2,897.00

Celestron CGEM II 925 Schmidt-Cassegrain Telescope£3,425.00 £3,254.00

Celestron CGEM II 1100 Schmidt-Cassegrain Telescope£4,199.00 £3,989.00

Celestron CGEM II 800 HD Schmidt-Cassegrain Telescope£3,399.00 £3,229.00

Celestron CGEM II 925 HD Schmidt-Cassegrain Telescope£4,199.00 £3,989.00

Celestron CGEM II 1100 HD Schmidt-Cassegrain Telescope£5,399.00 £5,129.00

Celestron CGEM II EQ Mount£1,925.00 £1,299.00

Celestron StarSense AutoAlign£359.00 £329.00

No need to identify or locate any star in the sky – StarSense will automatically align your Telescope.