APM Binoculars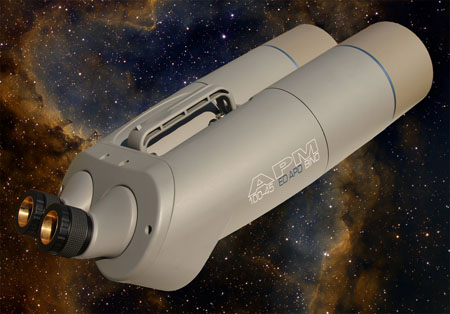 Double the experience!
The 100 ED-APO is an APM development to produce a true Apochromatic binocular without minimal false colour and excellent spherical correction.
It's performance mirrors that of a real 100mm ED Doublet Apo Telecope but with greater light gathering capacity. Featuring the newest broadband multi-coating technology, the 100 ED-APO's split double stars with ease and provide detailed views of the Sun*, Moon and Planets, all with an incredible 3D like realism that literally adds a new dimension to observing. *Using suitable white light solar filters.
As standard it accepts 1.25" eyepieces via its twin self-centering eyepiece clamps mounted to independent helical focusers. The Binoculars are supplied with a pair of 20mm SWA eyepieces as standard. When used with a premium eyepiece like Tele Vue's Panoptic 24mm, sharpness is pin point to the edge of the view with superb contrast.
As an option, 100 ED-APO Binoculars can be supplied with a high quality metal bodied red-dot finder that fits neatly on to the carrying handle of the binoculars. This excellent finder allows for very easy location of targets, even at the high magnifications, these binoculars are capable of.
The 100 ED-APO Binocular has also been made practical. They are magnesium bodied for lightweight with extendable dew shields. Each pair of binoculars are bench aligned and collimated before shipping to guarantee alignment up to at least 100x magnification. This is your guarantee of APM quality. Finally a useful carrying handle and 1/4" tripod mount make for a compact easy to transport observing system with superb optical performance.
The ED-APO Binocular is also available in a choice of prism angles that include the classic 45° angle for general use and the 90° which is more suitable for Astronomy targets at high altitudes. Both versions offer the same performance and are the same price.
The 100 ED-APO Binoculars light weight makes it suitable for use on a wide range of photo tripods and heads. For optimum performance we can offer premium Alt-Az systems including those with built in encoders and push to functionality. Please contact us for more details.