Lunt and Coronado Blocking Diagonals
Lunt Blocking Filters are available separately in various sizes, usable with the Lunt Solar Systems H-alpha filters and telescopes.

The B600 can be used visually for telescopes up to 540 mm focal length, the B1200 up to 1080 mm, the B1800 up to 1620 mm, and the B3400 up to 2880 mm focal length. If you want to image the sun, it will be better to use the next larger blocking filter.

Please note that these blocking filters are not complete H-alpha systems. The sun can be observed only together with an additional H-alpha Etalon filter system!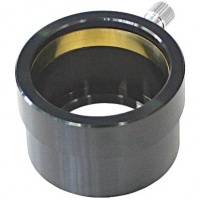 Lunt T2 to 2" Eyepiece Adapter
£27.00
The Lunt T2 to 2" eyepiece adapter is used to connect 2" eyepieces to Lunt Solar Systems telescopes and filters.