STUMPFL Mobile Frame Screens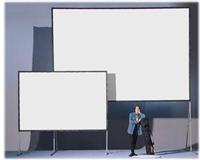 Have you thought about a display solution which is portable and can be set up by a single person? A mobile projection screen is exactly what you are looking for. In combination with nowadays projector technologies these products are used to create large scale but bright and crisp pictures within shortest time and can be used virtually as often as needed without any maintenance work.
For small applications a tripod screen is all well and fine but when it comes to moving around a rolled up screen becomes rather large to handle. This is where a screen that can be folded up really comes into it's own. These frame screens, from 2m in size up to 9m, either fold up or pull apart and either slip into a holdall or transportable box. The actual screen material is folded up.
Mobile projection screens are used in a variety of applications such as:
Corporate Events: Product Presentations, Customer Events
Trade Shows
Education & Training Courses
HDAV Presentations
Live Concerts and Shows
Hotels
Corporate Buildings
Mobile Cinema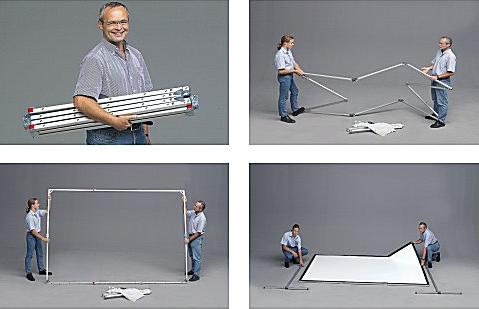 MOBILE PROJECTION SCREENS - The mobile display solution featuring highest picture quality at lowest operating economics:
Small Packing Dimensions
Lightweight
Quick Set Up and Breakdown
Long Lifetime
Mobile
Specifications:
All mobile Projection Screens are designed for easy, no tools assembly
High-quality aluminium materials for maximum stability and low weight
High-performance, fl exible PVC, screen material for front and rear projection
Reinforced elastic binding with welded seams for easy assembly and increased durability
Two styles of carry cases to choose from: Soft Carry bag with handles or sturdy stackable
Adjustable legs to suit your height requirements
Four leg styles to choose from
Frame height is adjustable in six-inch increments.
Our unique design allows our frames to be set up with the bottom edge of the screen at less than two inches from the floor.
All leg styles are compatible with all systems and models
Please note: All types are available in various formats and ratios, really too numerous to mention here. These screens are made to order and the dlivery time is 2-6 weeks. For quotation please contact us at 01353 776199 or email to elena@widescreen-centre.co.uk