STUMPFL Spring Roller
On a good projection screen the pictures should be large, brilliant and effective. Out of use, the screen should be invisible - a demand which is very difficult to meet.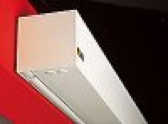 System Inline offers a solution which is something to be proud of. When the screen is rolled up, the lower screen edge disappears into the case until it is level with it. Combines high functionality and attractive appearance.
The sturdy spring mechanism is a guarantee for a long product life and is suitable for screen surfaces up to a maximum size of 240 x 240 cm.

Please note: All types are available in various formats and ratios, really too numerous to mention here. These screens are made to order and the dlivery time is 2-6 weeks. For quotation please contact us at 01353 776199 or email to elena@widescreen-centre.co.uk