Tele Vue Eyepieces, Barlows and Powermates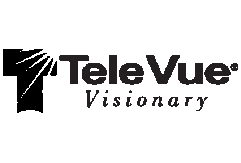 All Tele Vue eyepieces listed have proprietary tuned full multi-coatings, blackened lens edges, high index glasses, fold-down eyeguards, rubber grip rings, cover for the eyeguard, an undercut in the barrel for extra locking security and filter threads. All Tele Vue eyepiece lines are proprietary, in-house designs manufactured to our specifications and tolerances. Every eyepiece is individually tested at Tele Vue to ensure it meets our high optical and cosmetic standards.
---
---
Tele Vue Eyepieces, Barlows and Powermates
Tele Vue Eyepiece Notes:
All Nagler, Radian, Ethos and Delos eyepieces have internal focal planes. Field stop diameters and locations are "effective". Radian and Nagler type-4 eyepieces have "Instajust Eyeguards," and "pupil guide" accessory. Delos eyepieces have an adjustable/lockable eyeguard.
The 55mm Plössl and 41mm Panoptic eyepieces have an adjustable height (removable) eyeguard.
All dual barrel eyepieces work equally well in 1¼" or 2" focusers.
Tele Vue Eyepiece Calculator reveals the observing potential of your telescope with Tele Vue Optics eyepieces. It accepts basic information about your telescope and displays results for all current Tele Vue eyepieces.