STUMPFL Crank Drive Screens
One of the types of wall or ceiling mounted screens is the Crank Handled type. These are a a detachable handle to wind the screen up and down. They are also advantageous in situations where there is a possibility of damage through misuse: the crank handle can be removed and stored for safety and only produced when it is necessary to raise and lower the height of the screen - this is particularly apposite to educational establishments which have multi-user occupation.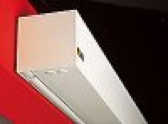 System Inline offers a solution which is something to be proud of. When the screen is rolled up, the lower screen edge disappears into the case until it is level with it. Combines high functionality and attractive appearance.
Mechanical considerations also mean that larger sized screens require this more substantial, type of construction. The length of the crank handle needs to be specified when ordering.
Stumpfl Crank Hadleded Screens are available with two types of screen material: PLANA and STRATO. Projection surface PLANA is a coated glass-fiber fabrick, matt-white, gain 1.0 is used in the screens up to 240 cm wide. Projection surface STRATO is a coated non-woven glass-fiber, extra strong for larger screens, matt-white, gain 1.0.
Surface Group Plana
Surface Group Strato
Example PLANA ECO JM
Example STRATO CF

non-warping base material
surface density: ~280 g/m2
Thickness: ~ 0,31 mm
gain: 1,00
light proof: 100%
fire resistance: B1

fibre glass non-woven
non-warping base material
surface density: ~1400 g/m2
Thickness: ~ 0,95 mm
gain: 1,02
light proof: 100
Please note: All types are available in various formats and ratios, really too numerous to mention here. These screens are made to order and the dlivery time is 2-6 weeks. For quotation please contact us at 01353 776199 or email to elena@widescreen-centre.co.uk