Telegizmos Telescopes Covers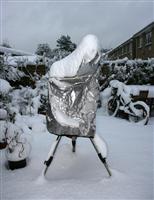 We've got you covered!
Straight from Texas comes the exellent Telegizmos telescope cover, made from a very tough NASA-derived reflective material that would probably survive re-entry. Multiple size options and two different weights. Custom sizes are available to special order.
The TeleGizmos Telescope Cover is a multi-layer, polyethylene material with a fully aluminized surface. The heat reflective ability of the cover is extremely high with a material strength equal to a multi-layer light weight tarp. The material used for Telegizmos Covers was originally developed for NASA as an insulator in spacecraft. It is very strong, light, tear and puncture resistant and is highly superior to Mylar in durability.
The benefits of the covers are numerous:
Highly water resistant without the need of spray on sealers. Washable.
Highly reflective. True & effective radiant barrier protection.
Greatly reducing scope temperature on scopes left outside in sunlight.
They can be securely fastened to your scope with the built in draw string.
Double lap sewn seams for strength.
Tear and puncture resistant.
Extreme temperature tolerance.
Recommended usage: Temporary outside storage.
Call Simon at 01353 776199 or email him at simon@widescreen-centre.co.uk for advice on your scope.
Please note: The standard TeleGizmos range (Product Codes TG##) are NOT designed for permanent outdoor use. They are designed to be used a couple of days at a time, e.g leaving your equipment out to put away the next day, or for a star party. If you are wanting a longer-term solution, please purchase the TeleGizmos 365 range (Product Codes T3##). These covers are designed to withstand permanent outdoor exposure.