Rear Projection Screens
STUMPFL Mobile Frame Screens are available with either FRONT or REAR (back) projection screen surfaces - or both.
If there is no room in front of the screen for the projector a rear projection surface can be used and the projector be placed behind the projection screen. There are special requirements to the surface material to prevent seeing the light spot of the projector through the material (Hotspot behavior) but to achieve a homogenous image throughout the entire color range of the projector.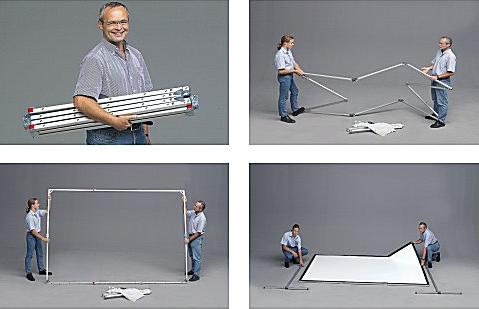 MOBILE PROJECTION SCREENS - The mobile display solution featuring highest picture quality at lowest operating economics:
Small Packing Dimensions
Lightweight
Quick Set Up and Breakdown
Long Lifetime
Mobile
Specifications:
All mobile Projection Screens are designed for easy, no tools assembly
High-quality aluminium materials for maximum stability and low weight
High-performance, fl exible PVC, screen material for front and rear projection
Reinforced elastic binding with welded seams for easy assembly and increased durability
Two styles of carry cases to choose from: Soft Carry bag with handles or sturdy stackable
Adjustable legs to suit your height requirements
Four leg styles to choose from
Frame height is adjustable in six-inch increments.
Our unique design allows our frames to be set up with the bottom edge of the screen at less than two inches from the floor.
All leg styles are compatible with all systems and models
Please note: All types are available in various formats and ratios, really too numerous to mention here. A few of the most commonly requested sizes are in the list below but for others or custom sizes please contact us at 01353 776199 or email to elena@widescreen-centre.co.uk
These screens are made to order and the dlivery time is 2-6 weeks.