Telescopes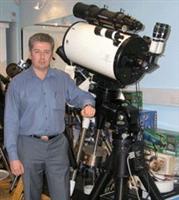 Welcome to the wonderful world of Astronomy" says Simon "we have telescopes for beginners to advanced observers and astroimagers!"
We have a very wide range of telescopes available from stock. Visit our Cambridgeshire showroom to see the range we offer and to seek advice. Whether you want a refractor, a dobsonian telescope, a Maksutov telescope or the latest APO telescope we will be able to satisfy your requirements.
"At The Widescreen Centre we take a different and flexible approach to Astronomy. For example, there may be times when you would prefer a different type of mount to the one supplied as standard with a telescope, or you might wish to have a different focal length eyepiece. Dr Simon Bennett will complete your telescope with the most suitable mount and accessory set".
"You'll be pleased to know that our offers are not all 'carved in stone' because we prefer to give the customer what he or she wants...not what we (or anyone else) thinks they ought to have! Just ask, and you'll find us accommodating wherever possible. Speak to me, Dr. Simon Bennett (left) on 01353 776 199 and we'll do our best to oblige!".