TeleVue Telescopes
The Best Refractors on the Planet! You can find full specifications for all Televue Telescopes on the Televue Telescopes Recommendations and Specifications Page.
---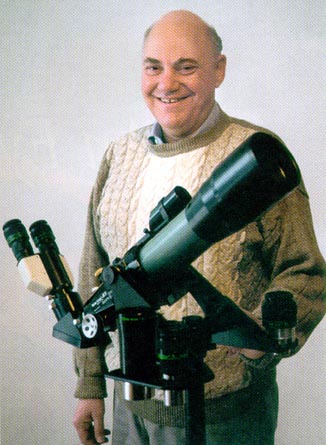 Why You Should Choose a Tele Vue Telescope. No single telescope is best for every application. For example, to see the faintest galaxies and nebulae or deeply resolving globular clusters, a big aperture telescope (such as a 12" or larger) can't be beat.
However, fine, small APO refractors offer levels of portability, versatility, field of view, day/night viewing, CCD imaging, digiscoping etc. that large instruments can't manage. And because APO refractors produce images essentially free of color fringing, and have no central obscuration, both low and high power views have the highest contrast. They are also rugged and easily carried on-board airplanes, so you can travel to exotic and dark-sky locations. Ironically, many large instruments have insufficient field-of-view to observe some spectacular deep-sky objects such as the North American nebula, all three sections of the Veil Nebula, the full extent of the Andromeda Galaxy, the Double Cluster, etc.
Every Tele Vue refractor, from the Tele Vue-60 to NP127is, can give at least a 3° field (six Moon diameters wide). And if you want illustrations of what these scopes can do on deep-sky objects, check out "The Messier Objects", and "The Caldwell Objects" books by Stephen James O'Meara. All his illustrations were made using a 4" Tele Vue telescope visually!
When it comes to viewing double stars, the Moon, Sun or planets, small APO refractors, because of their inherent high contrast and lower sensitivity to atmospheric turbulence, often rival or surpass far larger instruments. Tele Vue refractors resolve to "Dawes Limit", easily permitting 60x per inch of aperture for superb high-power viewing when atmospheric "seeing" permits.
And for imaging, some of the most astonishing deep-sky and planetary images come from small APO refractors.
Because they are built by Tele Vue in our Chester, NY facility, you also get:
A 5-year warranty
Full service capability
Helpful personal advice
Exemplary construction: every model uses precision machined and black-anodized aluminum housings; each focuser is hand-fitted for smoothness; sliding dew-shields and adjustable balancing mountings.
Optically, each instrument is made with hand-tuned lens spacings to assure diffraction-limited performance, along with full multicoatings for maximum contrast. There's a reason why the book "The Backyard Astronomer's Guide" says of our NP101: "optics don't get any better than this."
Add in the unique Tele Vue eyepiece lines, mounts, accessories, and you'll understand why we deliver products "even better than you imagined."
In summary, you get compact, convenient and beautifully handcrafted "heirloom" quality instruments, capable of extraordinary low-to-high power ranges, with fields of view up to 5.5° (over 11 Moon diameters wide), and great photographic/imaging capabilities. Their sharpness and contrast levels also place them above any other instruments for nature, wildlife and bird viewing (Cornell Ornithology lab reports). Lastly, adding Bino Vue to 85mm or larger Tele Vue scopes gives you amazingly dimensional "you are there" comfortable two-eye viewing.