William Optics Telescopes
Explore William Optics Telescopes - high-quality engineering combined with superb optical precision

---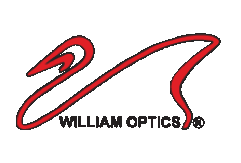 We are proud to represent William Optics class-leading telescopes and accessories at The Widescreen Centre and to display them in our Cambridgeshire showroom. Never before has such high quality engineering been combined with such superb optical quality and offered to the modern amateur astronomer at such prices. Pictures do not do these fine telescopes justice - you actually need to feel one - let alone look through it - to fully appreciate what is being offered here.
Discover the exceptional range of William Optics telescopes and accessories at The Widescreen Centre. Visit our Cambridgeshire showroom to experience firsthand the remarkable combination of high-quality engineering and superb optical performance that these telescopes offer. The modern amateur astronomer can now access this level of quality at affordable prices. Pictures alone cannot capture the true essence of these fine telescopes; you need to feel and look through them to truly appreciate the unparalleled experience they provide.
We also have WO accessories too, from their superb Binocular Viewers to 2" Carbon Fiber Diagonals and Erecting Prisms, Fnderscopes, Eyepieces and more.
At The Widescreen Centre we are in a unique position to offer you special package deals on all our leading brands with mounts and accessories from a variety of prestige manufacturers. We can tailor a package based on your specific needs and on any equipment that you may already have. If you have any questions please call Simon on 01353 776 199.