William Optics Telescopes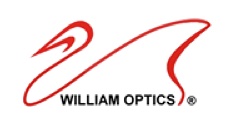 We are proud to represent William Optics class-leading telescopes and accessories at The Widescreen Centre and to display them in our Cambridgeshire showroom. Never before has such high quality engineering been combined with such superb optical quality and offered to the modern amateur astronomer at such prices. Pictures do not do these fine telescopes justice - you actually need to feel one- let alone look through it - to fully appreciate what is being offered here.
We also have WO accessories too, from their superb Binocular Viewers to 2" Carbon Fiber Diagonals and Erecting Prisms, Fnderscopes, Eyepieces and more.
At The Widescreen Centre we are in a unique position to offer you special package deals on all our leading brands with mounts and accessories from a variety of prestige manufacturers. We can tailor a package based on your specific needs and on any equipment that you may already have. If you have any questions please call Simon on 01353 776 199.
William Optics ZenithStar 61 ED Apochromatic Doublet Refractor TelescopeFrom: £415.00

Perfect for travelling with its included hard case, this high-quality telescope will travel with you wherever you go.

William Optics GT71 ED APO Triplet Refractor TelescopeFrom: £879.00

The stunning new William Optics Gran Turismo 71 APO is the new jewel of the apochromatic refractor world.

William Opics Star 71 II 4 Element APO Refractor Telescope£1,299.00 £1,199.00

Version 2 of WO's finest portable astrograph!

William Optics ZenithStar 73 Imaging APO (Full Frame) Telescope£599.00 £549.00

The new wide-field full-frame capable apochromatic refractor.

William Optics 2018 Gran Turismo 81 Apo Triplet Refractor TelescopeFrom: £1,149.00

The new 2018 GT81 three-element super APO offer superb quality for imaging and visual use at an affordable price!

William Optics GT102 Twenty years Anniversary APO Triplet Refractor Telescope£2,599.00 £2,399.00

The new 2018 GT102 three-element super APO Anniversary offer superb quality for imaging and visual use at an affordable price.

William Optics ZenithStar 103 ED Apochromatic Doublet Refractor Telescope£1,299.00 £1,095.00

A high-quality large aperture budget that won't break the bank!

William Optics Zenithstar 126 Apo Refractor Telescope£2,149.00

Perfect size for serious observations of deep sky objects and planets.

William Optics FLT 132 (2018 Edition)From: £3,495.00

The 132mm objective is a great size for both wide-field and planetary observations!

William Optics GT153 2018 Apochromatic Triplet RefractorPlease Call to Confirm the Price

You will be blown away by the small details you can observe through this APO 153mm; fine details of DSOs, stunning resolution both visually or during astrophotography.