Tele Vue Apollo Eyepieces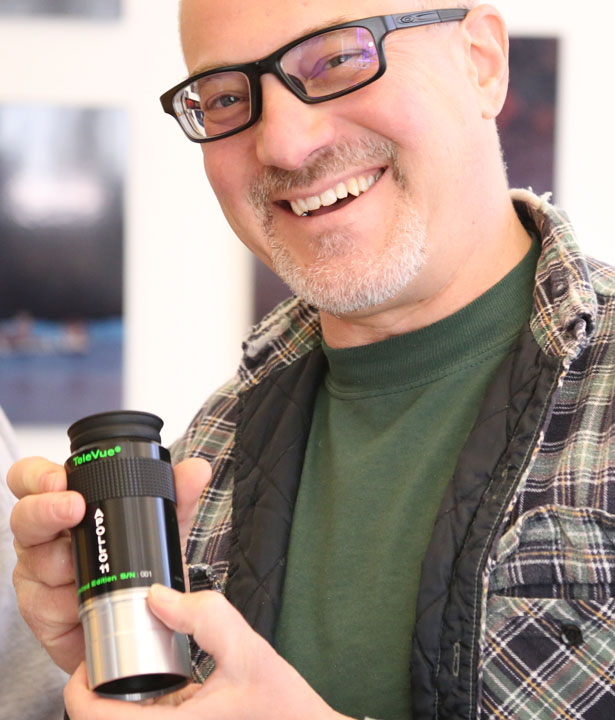 Limited Edition Apollo 11mm Eyepiece!
Tele Vue President David Nagler grinning ear-to-ear over the Apollo 11 eyepiece.
A package arrived at Tele Vue's door on the Monday before the 2019 Northeast Astronomy Forum (NEAF). It was quickly ushered into the corner office where a small group gathered around the parcel. When opened, three black boxes were withdrawn. For the first time, after many months of development in secret, each black box was opened by a member of the design team. At Tele Vue, we call these internal product reveals a "magic moment" — when fresh prototypes are unboxed in the office for "first light." This was a "magic moment" unlike any other; one 50-years in the making. The Apollo 11mm commemorative eyepiece had landed!
While the Lunar landing of Apollo 11 inspired generations of people in countless ways, a unique experience in the development phase of the Apollo program inspired one man on a journey which would eventually change amateur astronomers' views of the heavens. As an optical designer at Farrand Optical Company, Tele Vue founder Al Nagler was tasked to design an optical system for a simulator which the Apollo astronauts would use to practice landing on the Moon. When he finally stepped into the Lunar Excursion Module (LEM) trainer to see how his optical system performed, the view out of the craft's iconic triangular window of the simulated Moon below and stars above was breath-taking. Little did he realize at the time, but that was the moment of inspiration that ultimately resulted in the "Nagler" eyepiece.
In recognition of the 50th anniversary of the Apollo 11 Moon landing, Tele Vue is proud to celebrate our founder's contribution to the greater effort that made the mission possible and ultimately successful. The special, limited edition commemorative Tele Vue Apollo 11mm eyepiece pays tribute to the simulator program that was invaluable to astronaut training and to the direct influence it had on the eyepieces we enjoy today.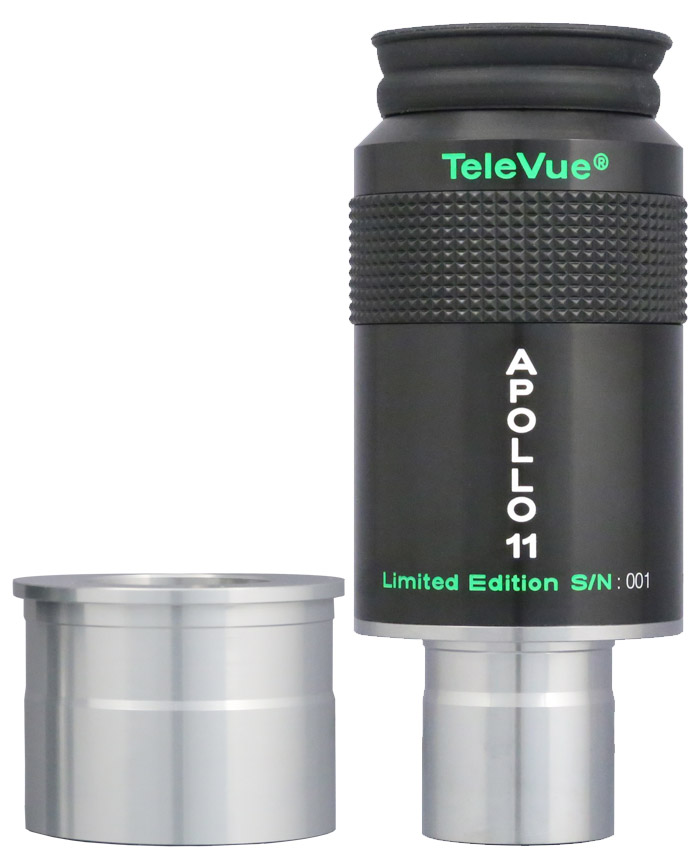 Focal Length: 11mm
Apparent Field of View: 85°
Eye Relief: 19mm
Field Stop diam. (effective): 16.2mm
Coatings: Glass matched multi-coatings on all surfaces
Barrel diam.: 1¼" with 2" thread-on adapter
Filter Treads: 1.¼" and 2"
Length: 4.8"
Width: 2.13"
Weight: 21.6 oz. (1.35 lbs.)
Total Production: Less than 300
*Specification subject to change